Students
Students attitudes to school is exceptionally positive as shown in their high levels of attendance and willingness to participate in lessons and the broader range of school activities. The students attendance has averaged consistently above 96% through the past decade and it continued to soar to 98% during the distance learning phase during the COVID pandemic when we provide live sessions. The school's promotion of the UAE identity and values including tolerance, care, respect, honesty, empathy, integrity and resilience is deeply rooted in all lessons and results in having a student body that is considerate, polite, well-mannered and thoughtful young people. They are open-minded young people who have good knowledge of and show respect for the beliefs, cultures, views and lifestyles of other people. Their wonderful attitudes to learning positively impact their academic progress.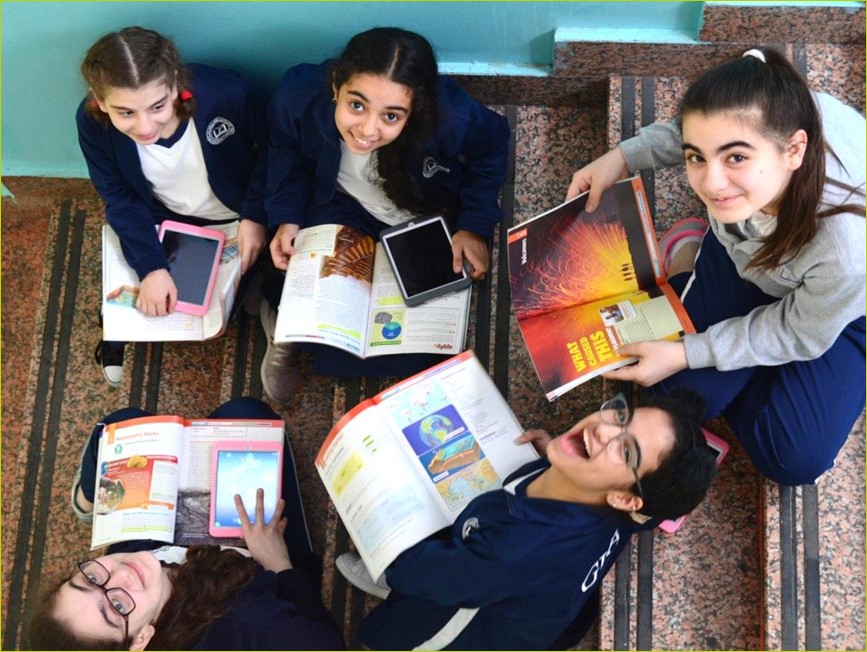 GIPA provides its student body with opportunities to practice leadership skills and get involved in a community through the Student Council Organization (SCO0 which is an organization by the students for the students.
They learn through the it about democracy and about the value of becoming actively involved, reliable members of the school and wider societies to make effective contributions and improvements to both.
Students volunteer their help willingly for the benefit of others through the SCO in campaigns like fundraising campaigns, the Community Service Club and the school Red Crescent Awn Team.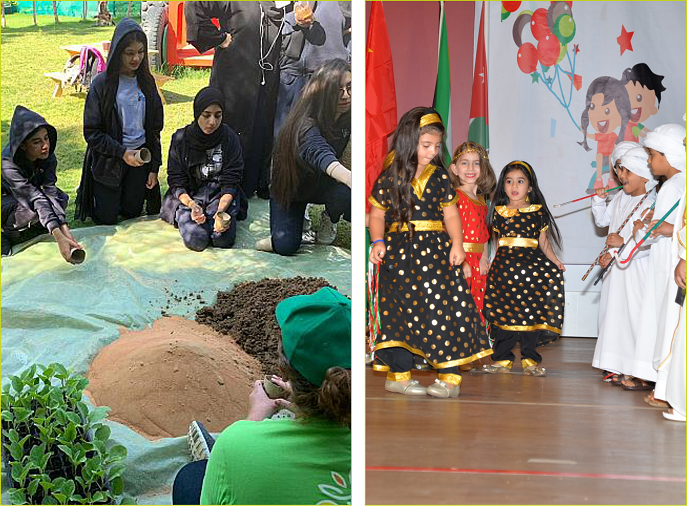 Activities
Every care has been taken to provide each student with an opportunity to find something they can excel at. There is a wide range of extra-curricular activities taking place at GIPA through:
I. Celebrations of EVENTS as per the national, Islamic, world/international and UNESCO calendars; like UAE National Day, Prophet's Birthday, Earth Day, Culture Day and awareness days like Mother Language Day, Autism Awareness Day and Women's Day.
II. Providing educational and recreation field TRIPS that are linked to the school curriculum and UNESCO GOALS; including but not limited to,  national parks like Al Ain Zoo and Miracle Garden; museums like the Louvre AD and other key national cites like Sheikh Zayed Mosque, Masdar City, Ferrari World and Dubai Aquarium to name a few.
III. In-school and inter-school CONTESTS AND COMPETITIONS of around 50 different ones like the GIPA Annual:
Art Competition
Inter-school Spelling Bee
Marathon
Makers' and Innovation Fair
Talent Show
Poetry Contest
Quran Contest
Reading Competition
Robotics Competition
Seerah Contests
Sports Day
In addition to participation in numerous regional and national competitions like:
– Math competitions like Ken Ken, Mind Labs and Mathletics
– Robotics competitions like World Educational Robot (WER) and Junkbot competitions
– Reading Challenge sponsored by His Highness Sheikh Mohamed Bin Rashid, Vice President and Prime Minister of the UAE and the Ruler of the Emirate of Dubai
IV. GIPA CLUBS that foster creativity, encourage talent and are based on students' choice. There is around 30 different clubs that include but not limited to:
Arts and Crafts Club
Basketball Club
Book Club
Chess Club
Computer Science Club
Debate Club
Digital Design Club
Drama Club
Eco Club
French Club
Fun Physic Lab Club
Health and Fitness Club
Home Economics
Math Club
Music Club
Photography Club
Quran Recitation Club
Red Crescent Awn Club
SAT Club
Science & Innovation  Club
Soccer Club
School Magazine
School Year book
UNESCO Club
Writing Clubs (Academic Writing and Creative Writing Clubs).
        
College and Career Readiness
Throughout all academic cycles and particularly in the high school cycle, there is a high-quality college and career guidance program in place that prepares students for their next stages in life. In the Elementary and Middle School, we inspire and inform students about the wide world of education and career around them tapping into their inherent enthusiasm and curiosity about their surroundings. We foster creativity and encourage ambition for the future through our thematically planned curriculum and its related field trips and extracurricular activities. In the High School, the Academic Counseling services at GIPA help students to make informed choices about which courses suit their academic needs and aspirations. We believe that every student deserves career success, and opportunities to develop personal, workplace and technical skills.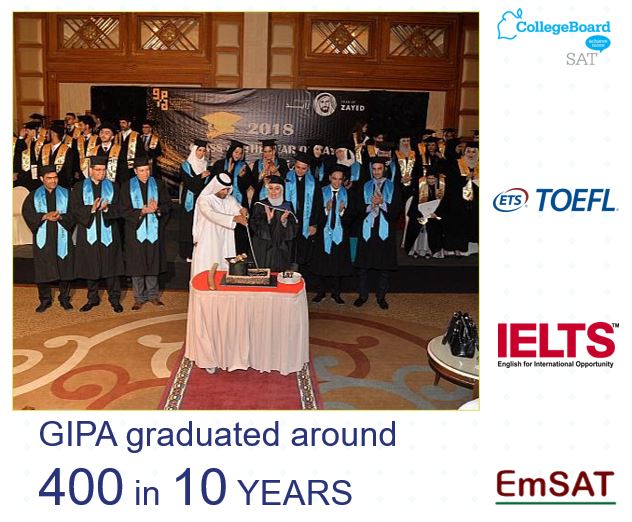 GIPA delivers a college and career readiness program through our Academic Counselor to grades 9-12 students that consists of:
– School Graduation and College Admission Support:
We prepare our students to meet the GIPA graduation requirements offering information on and tuition for international benchmark exams like SAT/ACT/AP, TOEFL, IELTS and EMSAT exams
We offer our students Advance Placement (AP) classes which offer a challenge to our students and give them college credit.
We support our students through their college admission process
– College Orientation Sessions and Career Fairs:
We reach out to the wider local and international community of colleges and universities in the UAE and abroad to provide our students with a peek into different colleges of different disciplines through orientation sessions on school grounds, in a variety of universities
Various students' consultants meet with students and advise them on career choices in several career fairs that take place on campus or outside school like Najah.
Some of the universities that the students get to visit physically or virtually include, but are not limited to, the United Arab Emirates University of New York University in Abu Dhabi, American University of Sharjah and of Dubai, Abu Dhabi University, Al Ain Science and Technology, Sorbonne University in Abu Dhabi to name a few.
– Our College and Career Platform, "Bridge U":
This is a platform that includes information on hundreds of international universities, and we use it to:
support our students with their college choices
help them with the college application
Collect data on students' attitude and potential tests through the surveys and personality assessments on the platform
– Partnerships with distinguished educational organizations:
GIPA is creating links with key educational organizations that are closely related to college and career life like:
the College Board organization which helps students navigate the transition from high school to college and we are a SAT/ACT/AP testing center.
GIPA is also a partner with the prestigious Academies@Harvard which is a non-profit, student-led organization that works in affiliation with Harvard University, USA.