COLLEGE AND CAREER READINESS
Throughout all academic cycles and particularly in the high school cycle, there is a high-quality college and career guidance program in place that prepares students for their next stages in life. In the Elementary and Middle School, we inspire and inform students about the wide world of education and career around them tapping into their inherent enthusiasm and curiosity about their surroundings. We foster creativity and encourage ambition for the future through our thematically planned curriculum and its related field trips and extracurricular activities. In the High School, the Academic Counseling services at GIPA help students to make informed choices about which courses suit their academic needs and aspirations. We believe that every student deserves career success, and opportunities to develop personal, workplace and technical skills.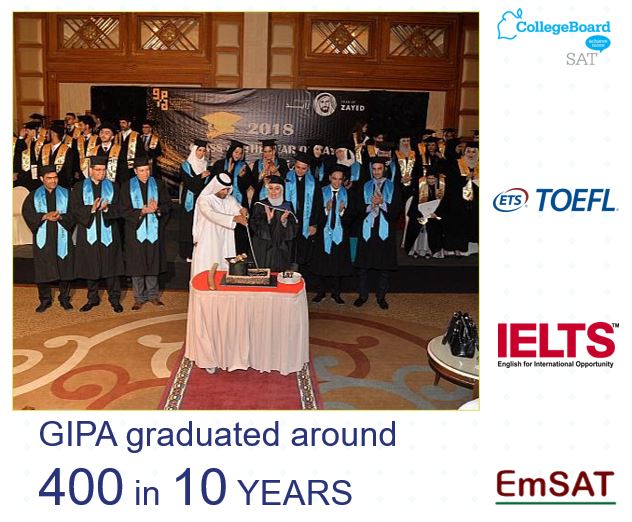 GIPA delivers a college and career readiness program through our Academic Counselor to grades 9-12 students that consists of:
– School Graduation and College Admission Support:
We prepare our students to meet the GIPA graduation requirements offering information on and tuition for international benchmark exams like SAT/ACT/AP, TOEFL, IELTS and EMSAT exams
We offer our students Advance Placement (AP) classes which offer a challenge to our students and give them college credit.
We support our students through their college admission process
– College Orientation Sessions and Career Fairs:
We reach out to the wider local and international community of colleges and universities in the UAE and abroad to provide our students with a peek into different colleges of different disciplines through orientation sessions on school grounds, in a variety of universities
Various students' consultants meet with students and advise them on career choices in several career fairs that take place on campus or outside school like Najah.
Some of the universities that the students get to visit physically or virtually include, but are not limited to, the United Arab Emirates University of New York University in Abu Dhabi, American University of Sharjah and of Dubai, Abu Dhabi University, Al Ain Science and Technology, Sorbonne University in Abu Dhabi to name a few.
– Our College and Career Platform, "Bridge U":
This is a platform that includes information on hundreds of international universities, and we use it to:
support our students with their college choices
help them with the college application
Collect data on students' attitude and potential tests through the surveys and personality assessments on the platform
– Partnerships with distinguished educational organizations:
GIPA is creating links with key educational organizations that are closely related to college and career life like:
the College Board organization which helps students navigate the transition from high school to college and we are a SAT/ACT/AP testing center.
GIPA is also a partner with the prestigious Academies@Harvard which is a non-profit, student-led organization that works in affiliation with Harvard University, USA.